Simplified and cost-effective picking and packing
Get the best fulfillment and warehousing services for e-commerce businesses today. We maximize the efficiency of our Southeast Asia fulfillment centers and warehouses, allowing us to keep our costs low and deliver fixed-cost service to our shippers. Online sellers and business owners will save on manpower, warehouse storage rental, and other costs.
In-house Fulfillment
Expensive
Time-consuming
Inefficient
Difficult to scale with business size
Ninja Fulfillment
Lower overheads
Time-saving
Lower rate of mistakes, delays and returns
Pay as you use
How it works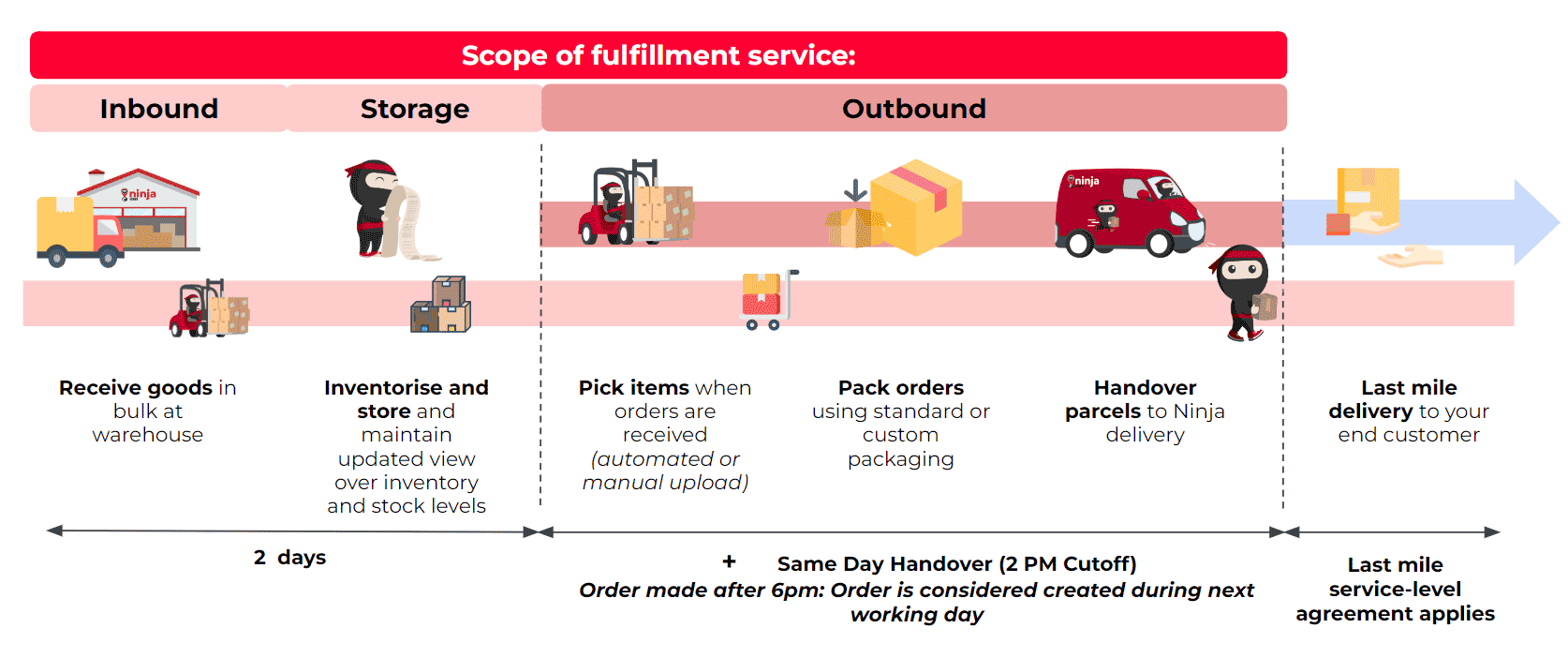 Speedy, fuss-free and reliable fulfillment
Customers are always demanding faster deliveries. The few hours between when they place their orders and when they receive them make all the difference. Our fulfillment centers across Southeast Asia help businesses to get their orders out in timings that exceed customer expectations. We provide full visibility and timely updates on warehouse activities and inventory movements through our warehouse management system.
Optimized delivery routes
By servicing multiple clients, each delivery route enables our delivery riders to carry the optimized load per trip, reducing delivery time, manpower, and other costs.
Centralized fulfillment network
A centralized fulfillment center dedicated to picking, packing, and shipping ensures consistent quality, time management, and cost-effectiveness.
Tech-enabled warehouse and fulfillment center in the Philippines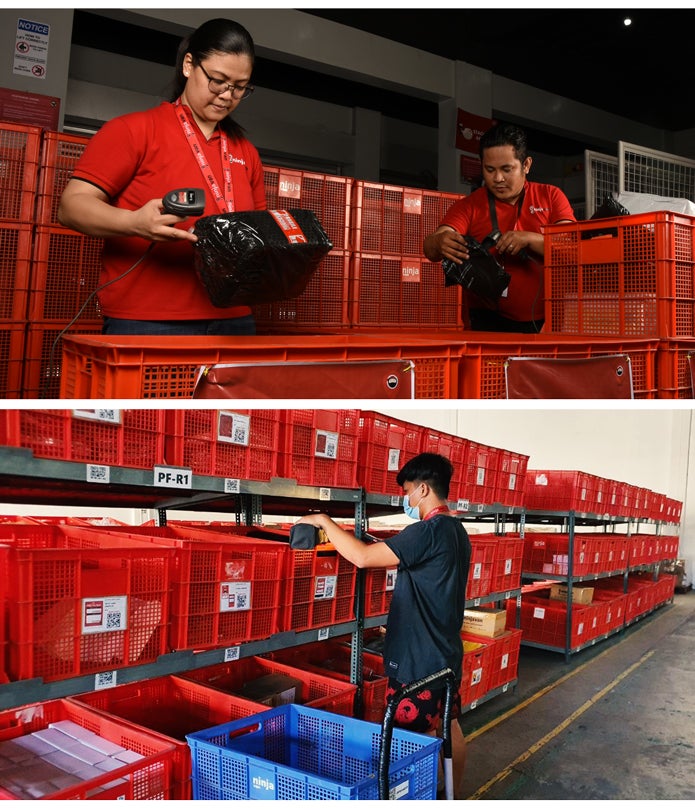 Our state-of-the-art logistics and warehousing distribution centers will keep your products safe and secure until we ship them to your customers. Ninja Van invests in equipment such as the DWS (Dimension Weighing and Scanning), automated rollers, conveyors, and multipurpose mobile scanners for an accurate movement of your inventory.
Dependable Fulfillment Services
In addition to regular picking, packing, and sorting, we provide customized warehouse management solutions to meet your e-commerce business needs. Value-added services like unstuffing, kitting and bundling, custom packaging, and more are included in our fulfillment services.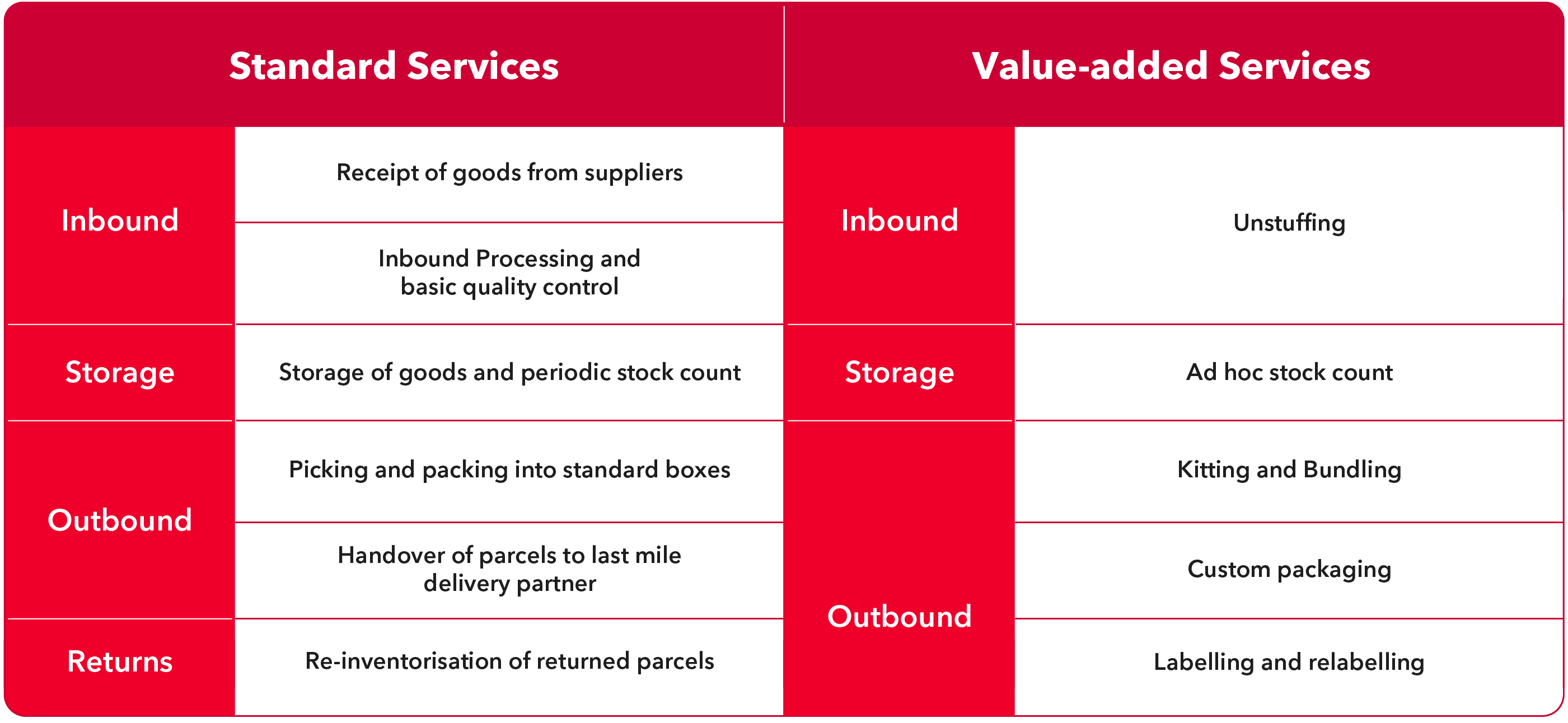 Marketplace Integrations
Other Services
International delivery
Delivering overseas? A team of experienced cross-border logistics team are readily available to provide smooth and seamless customs clearance, currency exchange, and other essential services.