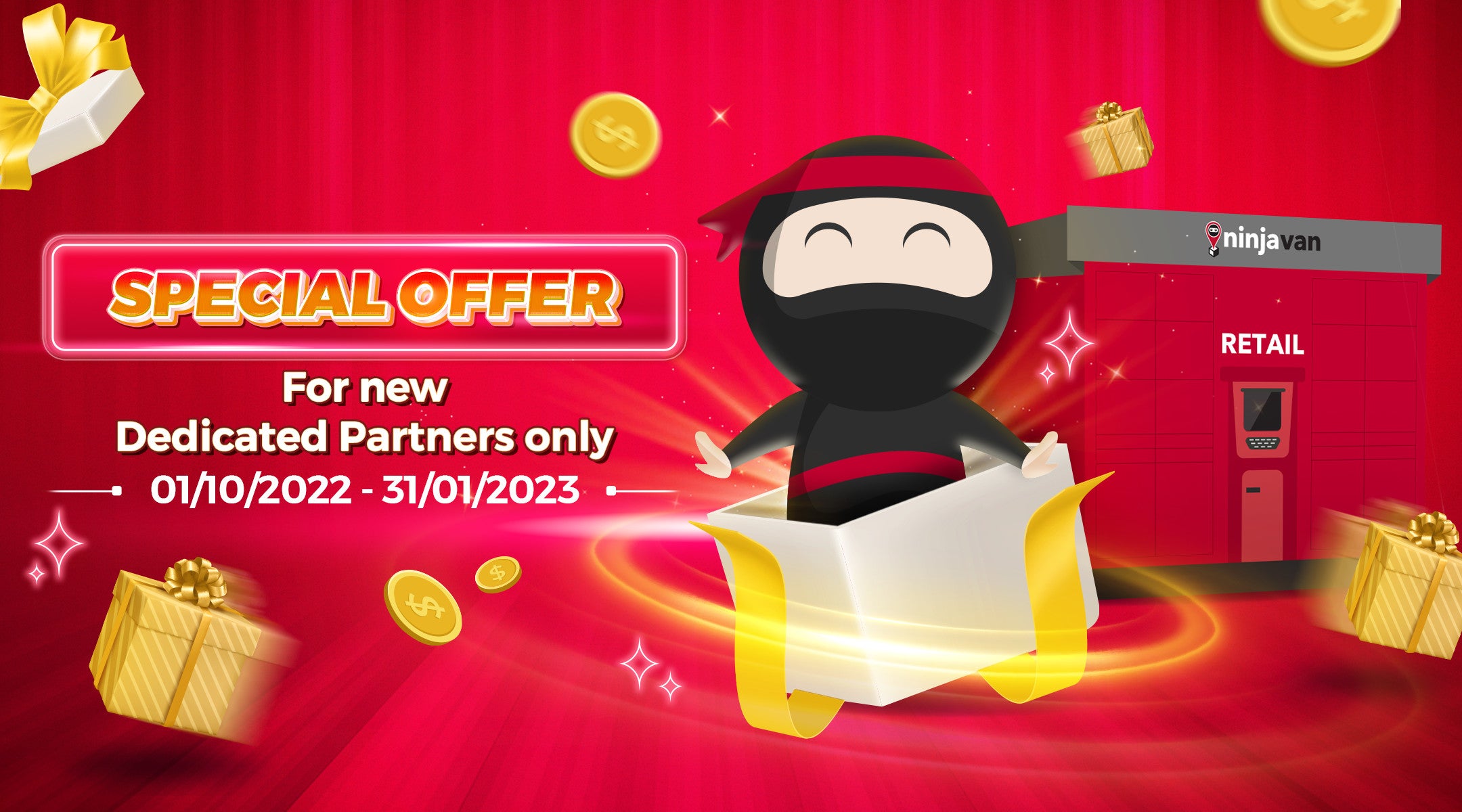 PROGRAM
"SPECIAL GIFT SET FOR NEW DEDICATED PARTNER"
Terms & Conditions
1.  Program name:  Special gift set for new dedicated partner
2.  Period: 01 October 2022 - 31 January 2023
3.  Apply to:
Ninja Retail's dedicated Business Partner pays the participation fee during the promotion period.
4.  Gift set:
Each new dedicated Partner will receive a Branded Gift Set (also known as Branded Promotional Merchandise), which includes these items:
01 vacuum bottle
01 backpack
01 sport jacket
01 handbook
01 coaster
01 helmet
01 ballpoint pen
01 raincoat
5. Promotion details:
5.1   Eligible Partner:
The Business Partner must complete the Agree Contract and pay the participation fee to Ninja Van Viet Nam within 01/10/2022 to 31/01/2023 in order to receive a Branded Gift set (*)
(*) The program may end earlier than the promotion end date in case the promotion gifts are fully rewarded.
5.2 Announcement:
a. When the Business Partner has successfully paid the joining fee and confirmed the Agreement Contract, Ninja Retail's Salesperson will directly contact the Partner to collect the necessary information.
b. The Business Partner must provide the correct phone number and address to receive the Gift Set from Ninja Retail. We do not bear any responsibility if the provided information is not correct.
c. If the Business Partner cancels the Agreement Contract, the Business Partner will not be eligible to receive the gift set.
5.3 Delivery
Ninja Retail will send the Gift set to eligible Business Partners within (07) working days after receiving delivery information. 
6. Other terms
a.  Ninja Retail has the responsibility to notify the terms & conditions on the website: www.ninjavan.co
b. Q&A channel policies: Hotline 028.668.66938 or Email: vn-nbu-retail-commercial@ninjavan.co
7. General Terms
a. By joining the program, the Business Partner understands and agrees that Ninja Retail keeps the rights to use your video, image, audio file or any other materials to promote this program (including as part of the entry process or as part of a prize) without paying any additional fee. 
b. Ninja Retail takes responsibility to provide proof of delivery if there is a requisition.
c. Ninja Retail is not a gift supplier. All products would be used as gifts following the terms and conditions.
d. Ninja Retail keeps the rights to modify or change the terms and conditions of this program. 
e. Ninja Retail has complete discretion on the final result.
f. This gift set shall not be redeemed for cash in any circumstances.
Please contact us via:
🚀 Email: vn-nbu-retail-commercial@ninjavan.co
🚀 Fanpage: https://www.facebook.com/doitacninjavan
📞 Hotline: 028.6686.6938