Going Green
Ninja Van was founded with a mission: To connect Southeast Asia to a world of possibilities. As our business scales, we have the opportunity and the responsibility to act as a catalyst for positive change. We are taking steps to translate this vision into action in an attempt to create meaningful impact across the region.
From 2022, Ninja Van has started incorporating sustainability as part of our business, tracking key metrics to evaluate our progress. Below is our sustainability framework and roadmap that serves as a guide for our teams to measure and manage our environmental impact and ensure that our business grows responsibly.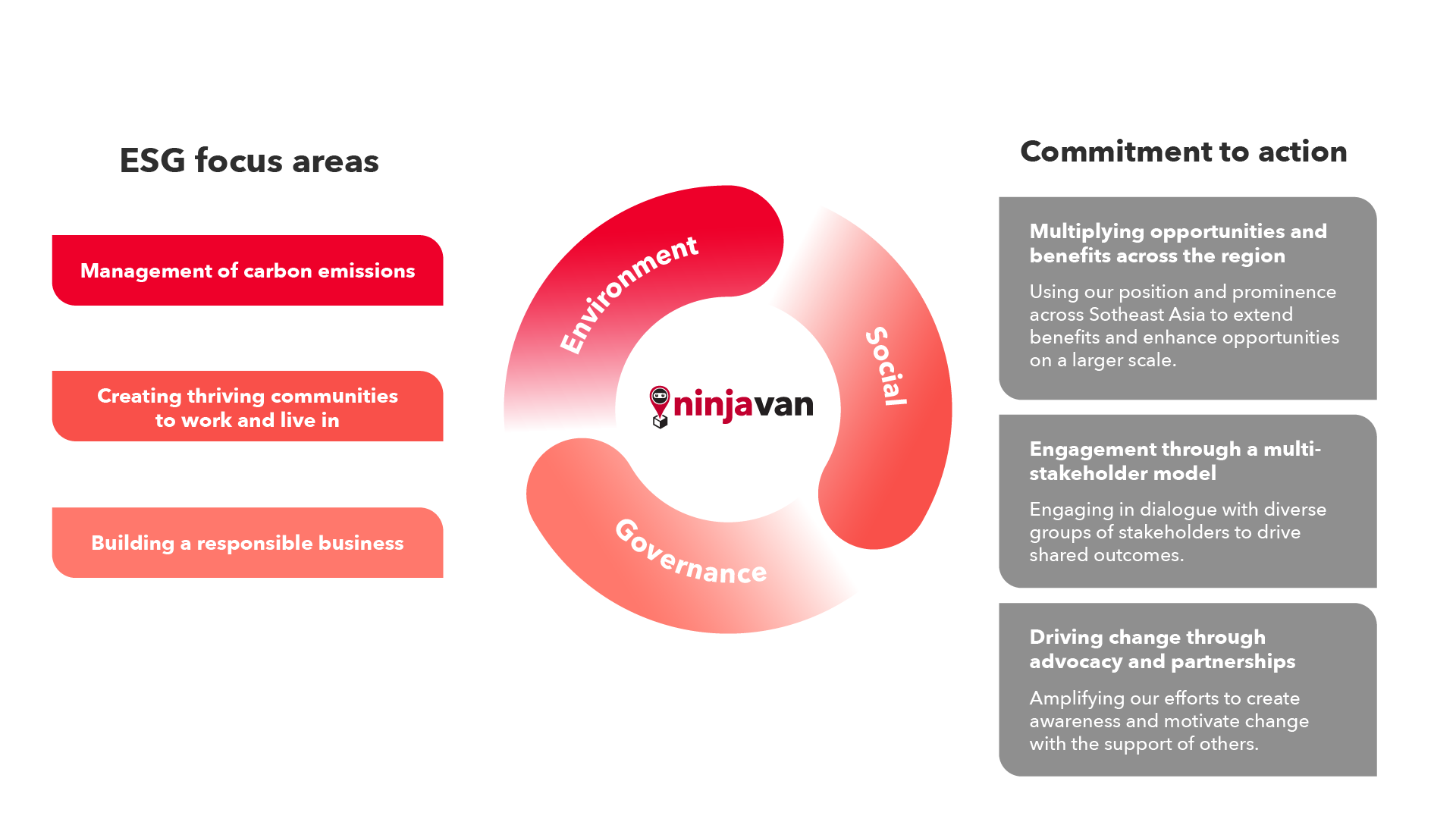 Sustainability at Ninja Van
Managing our carbon footprint
Every business has a role to play in addressing the current climate crisis. Being part of one of the highest carbon-emitting industries, we have the ability to make great impacts through small changes. That's why we've embarked on this journey to understand, measure and manage our carbon footprint. Together with our logistics partners, we can make a difference in tackling climate change and environmental sustainability.
Managing our carbon emissions
As the logistics industry faces increasing demand from the growing e-commerce sector, Ninja Van looks to reduce our carbon footprint through sustainable practices across our entire supply chain.
Currently, we have just embarked on our roadmap to build a more environmentally friendly Ninja Van and are in the process of measuring our total carbon emissions. We are also exploring the viability of deploying climate-friendly solutions like electric vehicles and cleaner-burning fuels region-wide.
Replacing single-use plastics with sustainable materials 
Plastic waste is one of the biggest threats to our environment. Not only does it harm both ocean and terrestrial ecosystems, it also produces microplastics that harm our environment, seeping into the soil and affecting many essential microorganisms.
At Ninja Van, we're working towards keeping plastic waste out of landfills and disposal sites. As a first step to reducing plastic waste across all our operations, we're cutting down on single-use plastics in our warehousing operations and recycling waste materials where possible.
Environmental advocacy
We all have a responsibility to protect the environment against climate change and pollution. Sustainable change is the most impactful when coordinated across all sectors. Ninja Van has and is still giving support to both local and national level campaigns, projects and policies that work towards driving positive environmental impact.
Creating thriving communities to work and live in
In Sep 2022, Ninja Van was named a Great Place to Work® certified company in Singapore. Our management team has always been committed to making a difference to our employees, customers and partners. We have spent time, money and resources to create a thriving community to work and live in.
Commitment to local businesses and communities
SMEs have always been a key pillar of Southeast Asia's (SEA) economy, contributing more than their fair share to the nation's wealth. 
According to the World Bank, SMEs "represent about 90% of businesses and more than 50% of employment worldwide. Formal SMEs contribute up to 40% of national income (GDP) in emerging economies."
Not only are these SMEs the backbone of many countries' economies, they also play a major role in Ninja Van's logistics and supply chain network.
Ninja Points: We partner with thousands of independent stores, outlets and kiosks across SEA, providing them with a way to bring in extra revenue.
Masterclass: Our series of both online and offline Masterclasses have equipped thousands of small business owners in SEA with skills and insights to adapt to and succeed in today's digital economy.
Ninja Mart: Connecting our retail brand partners with rural communities, our Ninja Mart distribution network has helped thousands of 'mom and pop' stores and micro-entrepreneurs generate sustainable sources of income. 
Commitment to our employees
A large part of our operations involve heavy lifting. This doesn't just refer to actual heavy lifting of items in our warehouse or line hauls, but the hard work our drivers do on the road. 
Many of Ninja Van's policies revolve around preventing workplace accidents and injuries, educating workers on safety and tracking the operational safety performance in all our centres. 
We have also rolled out driver-specific training programmes to equip our delivery personnel with the skills and knowledge to manage on-the-job risks. The current training framework covers topics such as Health, Safety and Environment, Defensive Driving, Emergency Drills and Driver Onboarding.
Shaping the future of work
Each team member is essential to creating a thriving community. Our teams are constantly recruiting and developing new members, creating opportunities for personal and professional development and promoting increased business performance, innovation and employee engagement.
Building responsible business
Trust is one of the cornerstones of our business. Ninja Van is committed to being transparent and responsible to all our stakeholders.
Ninja Van takes a serious stance towards its legal and compliance obligations, and employs a zero-tolerance approach to any non-compliance or misconduct by its employees or third-party partners. We promote accountability by encouraging our team members to report concerns or questions to their manager, the HR team, or by making an anonymous report through the dedicated whistleblowing channel or emailing compliance@ninjavan.co. 
We recognize the importance of protecting the privacy of our customers, vendors, and employees. To do this, we have taken steps to promote and create a safe and secure environment across the online systems that Ninja Van operates. As online threats become more prevalent and increasingly sophisticated, we proactively take steps to monitor and guard against these digital risks, to protect our business and our customers.