Sourcing & Procurement
Save time and money with Ninja Direct's first-rate sourcing and procurement services. Ninja Van is a leading Third-party Logistics (3PL) provider in SEA so you can be assured of fast and reliable first-mile pickup and warehouse delivery.
Find-for-you
Finding a good supplier is essential for any e-commerce business. With most products now coming from China, having an excellent network and fluent negotiation skills is important for a successful deal. Find-for-you takes care of everything from:
Sourcing
Purchasing
Logistics/importation
Pickup and delivery to your warehouse
Buy-for-you
If you have chosen a supplier but need additional assistance with pricing, Minimum Order Quantity (MOQ) negotiation, product confirmation, and supplier vetting, Buy-for-you is the perfect service for you with:
Purchasing
Logistics/importation
Pickup and delivery to your warehouse
We also offer payment assistance should it be required.
Cross-border services
Take advantage of cross-border shipping service and international delivery for the end-to-end procurement process. After sourcing and purchasing products from the supplier, we will arrange for freight transport to your selected destination. You can utilize our local warehouses if you don't have a storage facility.
Flexible freight forwarding services are readily available at affordable rates so you can receive products from suppliers without crossing multiple borders. The Ninja Van cross-border service team will manage customs clearance, currency exchange, and tax documentation from the country of origin to the final destination on your behalf.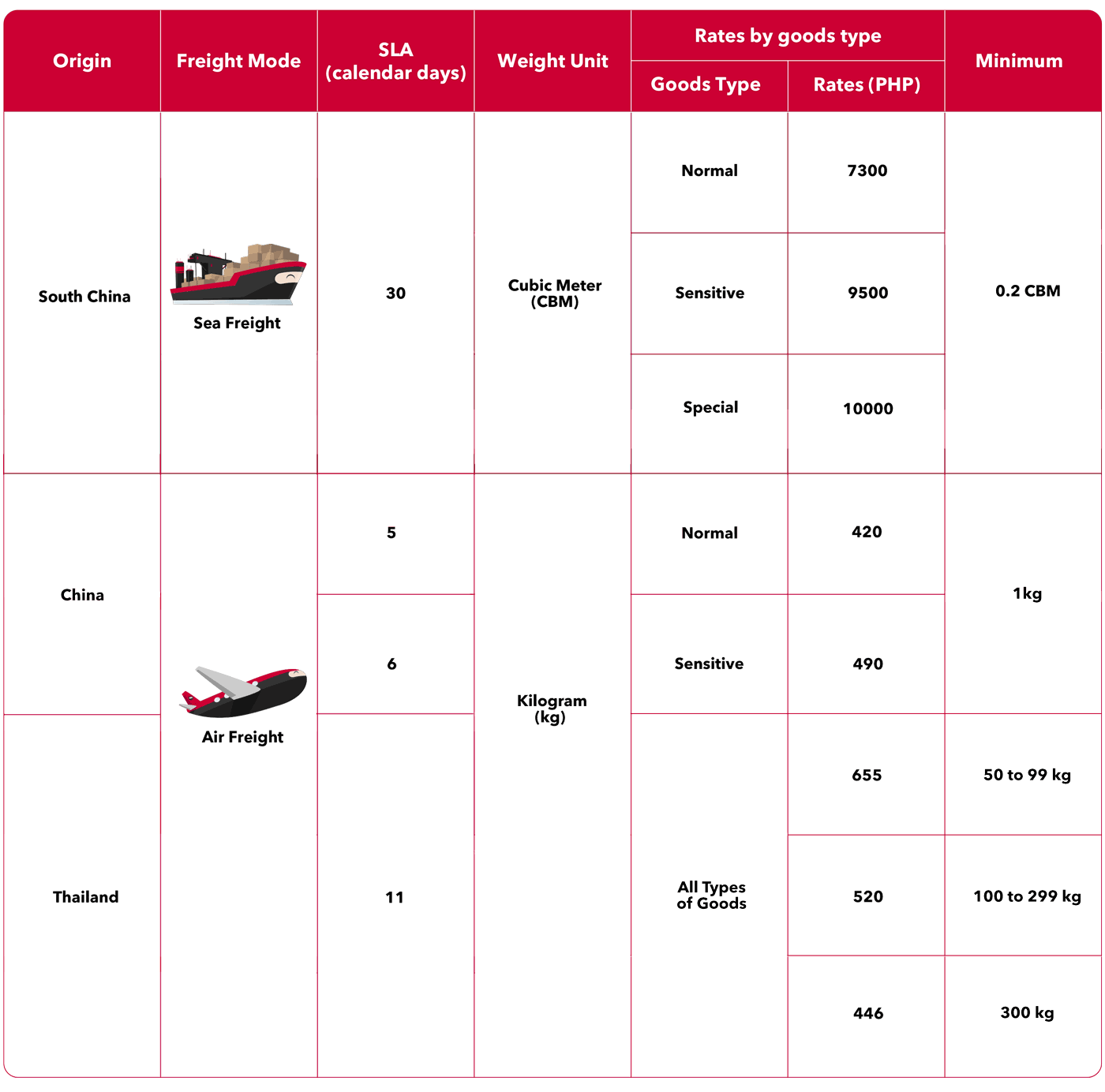 Trade financing services
Ninja Direct supports your business in creating a sustainable cash flow, expanding your inventory, and offering multiple payment options. Many suppliers require 100% upfront payment for the production of goods, but many small businesses don't have such a level of liquidity. Our trade financing services allow you to pay the deposit only after ordering from us. Our fast and hassle-free application process for flexible payment options has no hidden fees and doesn't require collateral. Pay only what you're quoted!
Pay before delivery (P4D)
We provide the option to pay for a portion of the payment while we help to pay for the outstanding first. P4D gives you more time to prepare funds while having the freedom to manage your cash flow more sustainably.
PayLater
Apart from the P4D scheme, we also offer the PayLater plan. This plan allows you to put in a 30% deposit upon order placement and pay the remainder after an agreed period of 45, 60 or 90 days, allowing you to sustain a healthier cash flow.