Ninja Van's public advisory on parcel delivery scams
The downside of the e-commerce boom
Since the rise of ecommerce shopping, we have also seen an increase in parcel delivery scams. Of these, the most prominent are phishing and Cash on Delivery (COD) scams.
Scammers are getting more sophisticated. They can pose as legitimate online sellers on fake websites or even place fake ads on social media.
Parcel delivery scams lure customers to pay for parcels that:
They did not buy
Do not match their expectations
If you have received a suspicious parcel, please reject it and refuse payment.
Notice: Together with an increase of parcel scams, we also see a rise of driver abuse. Should you be a victim of a parcel scam, please do not blame or abuse our staff as they are only responsible for delivering the parcel. Instead, please contact the seller directly for a refund, or reach out to our customer service Ninjas for help.
Parcel Scam Updates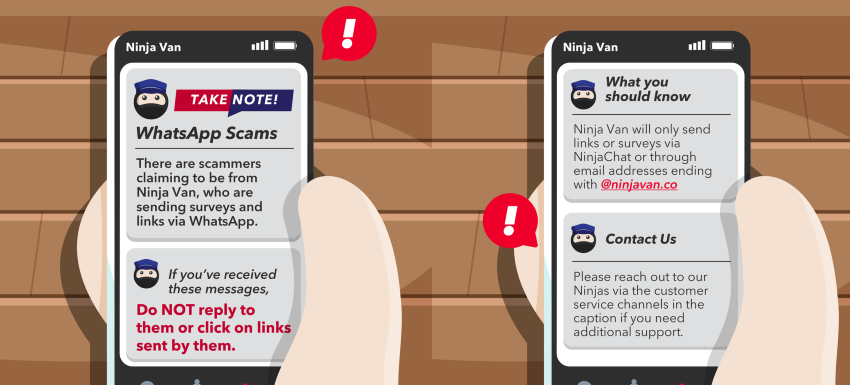 We have received notice of a new scam using fraudulent WhatsApp messages with surveys and links claiming to be from Ninja Van representatives. Please do not reply or click on the links. Ninja Van will only send surveys via NinjaChat or through emails ending with @ninjavan.co.
Fake Ninja Van Mall Website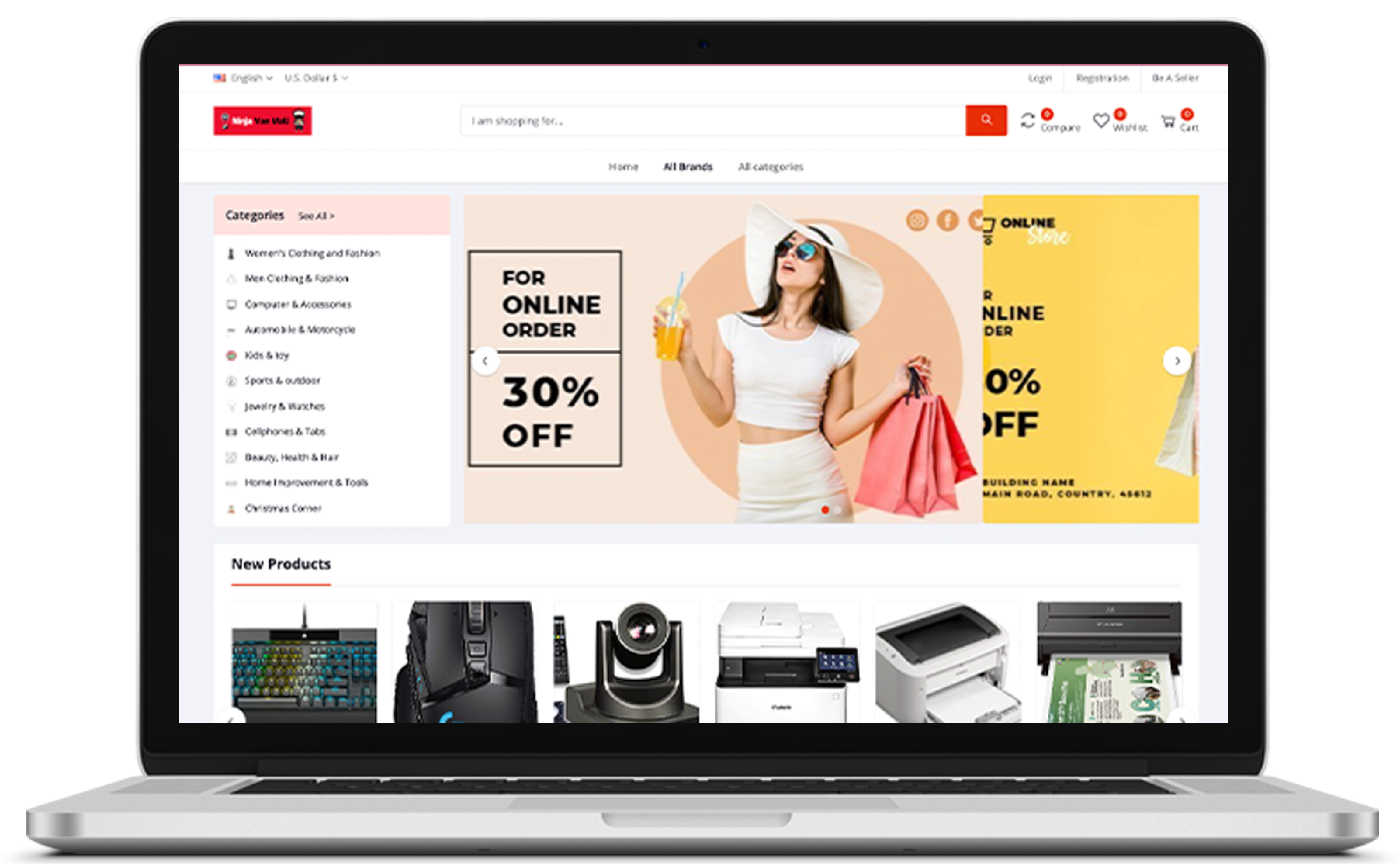 Dear online shoppers, we have been alerted to a fake ecommerce site claiming to be associated with Ninja Van (ninjavanmall.com) selling various consumer goods and products.
Update: A second URL (ninjavanshopping.com) has been discovered. We have issued take down requests for both. 
Please note that this website is not affiliated with Ninja Van. We only provide supply chain and logistics services and do not sell any products or consumer goods to customers directly.
COD Scams
COD scams are a type of scam that has been gaining prominence in Malaysia and other neighbouring countries.
The majority of these scammers are based overseas. They send COD parcels via freight forwarders who assign the last mile deliveries to 3rd party logistics providers (3PLs) like Ninja Van. Hence, most 3PLs have no direct contact with these scammers.
Behind-the-scenes of COD scams
There are typically three parties handling the COD parcel before you receive and pay for it, only to realise that it is not what you have ordered or that it has a much lower value.
Scammers
Foreign sellers posing as legitimate e-commerce stores on popular platforms like Lazada or Shopee use freight forwarders to arrange COD deliveries.
Freight Forwarders
These are middlemen connecting foreign sellers and 3PLs. They receive the parcels directly from the sellers and pass them on to the 3PLs.
3PLs
3PLs like Ninja Van are responsible for delivering the parcels to your doorstep. We also collect cash on behalf of the freight forwarders and remit it to them.
Ninja Van's role in COD Scams
Upon scam alerts, Ninja Van usually facilitates a refund out of goodwill. To reduce the occurrence of such scams, we try to maintain close relationships with our freight forwarders. So we can screen shippers before we onboard them and blacklist identified scammers.
In Singapore, we are working closely with the Singapore Police Force to develop educational initiatives for members of the public to make such scams more well known.
Is it possible to weed out the bad actors completely?
Unfortunately, no. The fight against COD scams is an ongoing battle since most cases originate from foreign jurisdictions. 
Blacklisting scammers is not a 100% foolproof solution. These foreign syndicates usually own multiple online stores or use more than one shipping consolidator.
What you can do 
Ninja Van Singapore takes COD scams seriously and has been working closely with relevant stakeholders to tackle them.
We strongly encourage members of the public to be extra vigilant.
DO NOT pay for any parcels that they have not bought online.
Should customers come across any suspicious parcels or payment requests, please reject the delivery, and report to Ninja Van Singapore directly via:
Email: support_sg@ninjavan.co
Live Chat: Mon- Sat, 9am to 8pm
Alternatively, visit the contact us page if you have any inquiries.
Other precautions you can take
Inform household members: If you are expecting a COD parcel, let household members know what the item is and when to expect them.
Don't be afraid to say no: Always check the item description if you are unsure and reject payment of any suspicious parcels.
Do your due diligence: Check reviews and only buy from reputable sites.
If it sounds too good to be true, it probably is: If a high-value item is being sold for a much lower price, think twice about its authenticity.
Frequently Asked Questions (FAQs)
Why is Ninja Van still accepting COD?
It remains an option for recipients who prefer to pay when their parcel is delivered to them.
Can recipients open COD parcels before making payment?
No, it is prohibited. Parcels can only be opened after payment is made. Recipients can refuse COD parcels if they did not make a purchase/the parcel seems suspicious.
Why can't Ninja Van sieve out scam parcels?
We do not open any parcels and deliver only to the address specified by our shipping partner.