A rewarding experience
The more you ship with us, the more points you earn. Unlock tier perks, value-added services, and other exclusive benefits as you climb to the top of our loyalty programme! We're always looking for more ways to thank you for your support and give back, so keep your eyes peeled for even more rewards!
Ship
Your rewards points will be automatically added to your account as you ship with us.
Redeem
Cash in your points for exclusive rewards like packaging materials, bill rebates, and more!
Upgrade
Ship more and advance to the next tier to access even more benefits!
Tiers and Perks
Here's a sneak peek of the available rewards and perks! We're constantly striving to improve our programme, so be sure to keep an eye out for the newest benefits. You can also use your points to redeem bill rebates, vouchers, and even packaging materials!*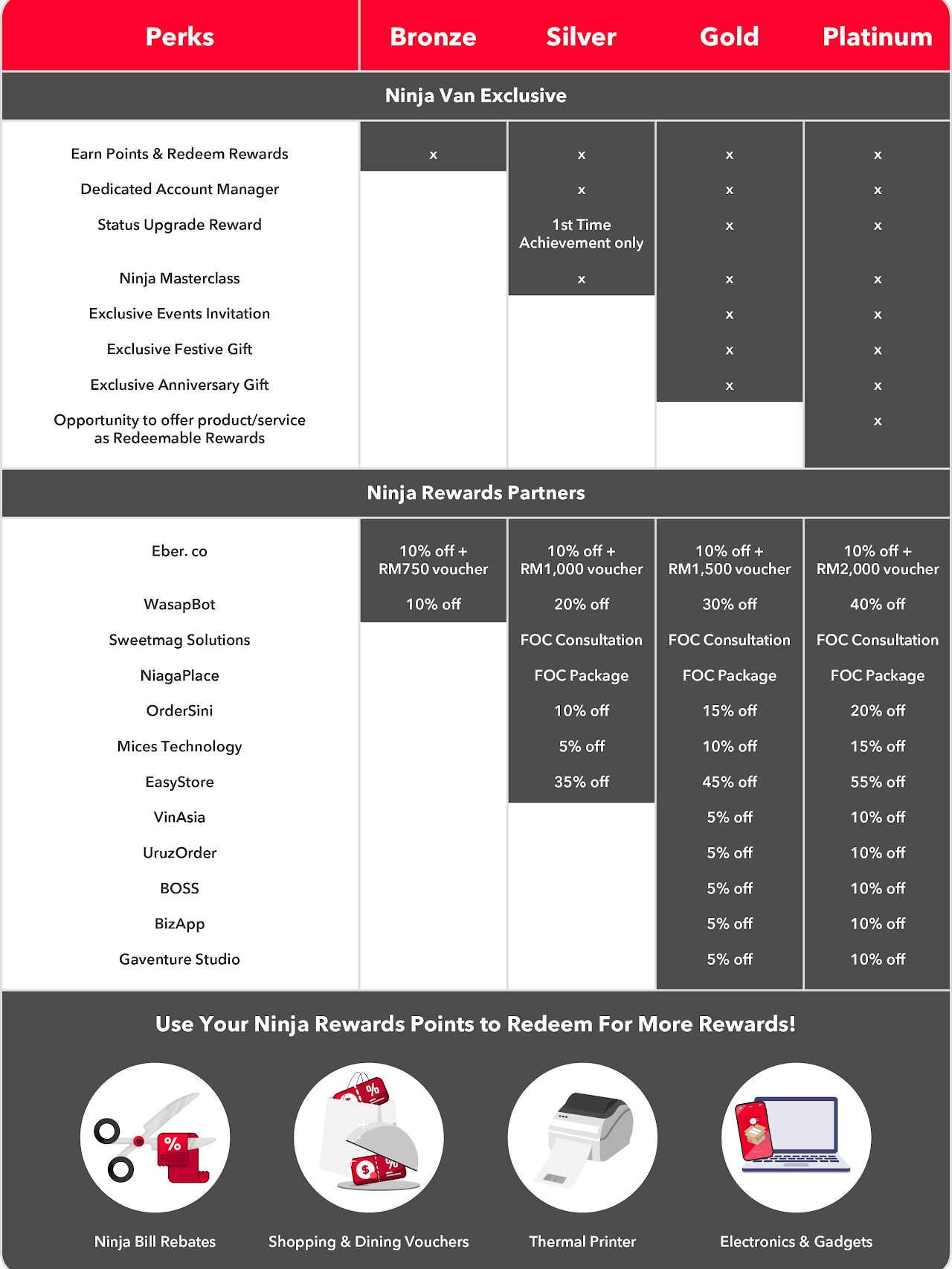 *Please note that the Ninja Rewards programme is available only for Ninja Pro Shippers.
Frequently Asked Questions (FAQs)
How do I sign up for Ninja Rewards?
Do note that you must have an existing Ninja Pro account in order to join. 
You will be automatically enrolled to the program once you are eligible. An email will be sent notifying you of your successful registration. 
Please note that points will only be accumulated upon signing up and cannot be backdated.
Is there a membership or subscription fee?
No, there are no membership or subscription fees at all! Ninja Rewards is free for every eligible Ninja Pro shipper.
I have more than one shipper account, can I combine all my Ninja Rewards Points?
Yes, please feel free to email us at my-rewards@ninjavan.co. Do note that merging of accounts is irreversible.
How do I know which accounts are already under the Ninja Rewards programme?
If you have indicated all your accounts during registration, the points earned from all these accounts will be automatically combined. 
For points or account enquiries, feel free to email us at my-rewards@ninjavan.co.
How do I earn Ninja Rewards points?
You earn points with each completed regular delivery order with us! Points will be automatically added at the end of the day based on the number of deliveries completed that day. Please note that Ninja Pack deliveries are not eligible for Ninja Reward Points.
We have Ninja Exclusive Perks, Partner Perks and redeemable rewards for every tier. Earn more Ninja Rewards points to unlock more benefits and entitlements!