Simplified and cost-effective picking and packing
Get the best fulfillment and warehousing services for e-commerce businesses today. We maximize the efficiency of our Southeast Asia fulfillment centers and warehouses, allowing us to keep our costs low and deliver fixed-cost service to our shippers. Online sellers and business owners will save on manpower, warehouse storage rental, and other costs.
In-house Fulfillment
Paying for warehouse and packers, regardless of sales for the month
Spend 80% of your time manually processing orders 
Manually Downloading Orders from your Marketplaces
Counting your inventory manually
Wait for the courier pickup
Ninja Fulfillment
Pay only for the space you use and orders you want us to process!
100% focus on your sales and marketing
Let the system fetch marketplace orders AUTOMATICALLY
Access to Live View of your inventory with real-time updates
Same-day handover to courier
How it works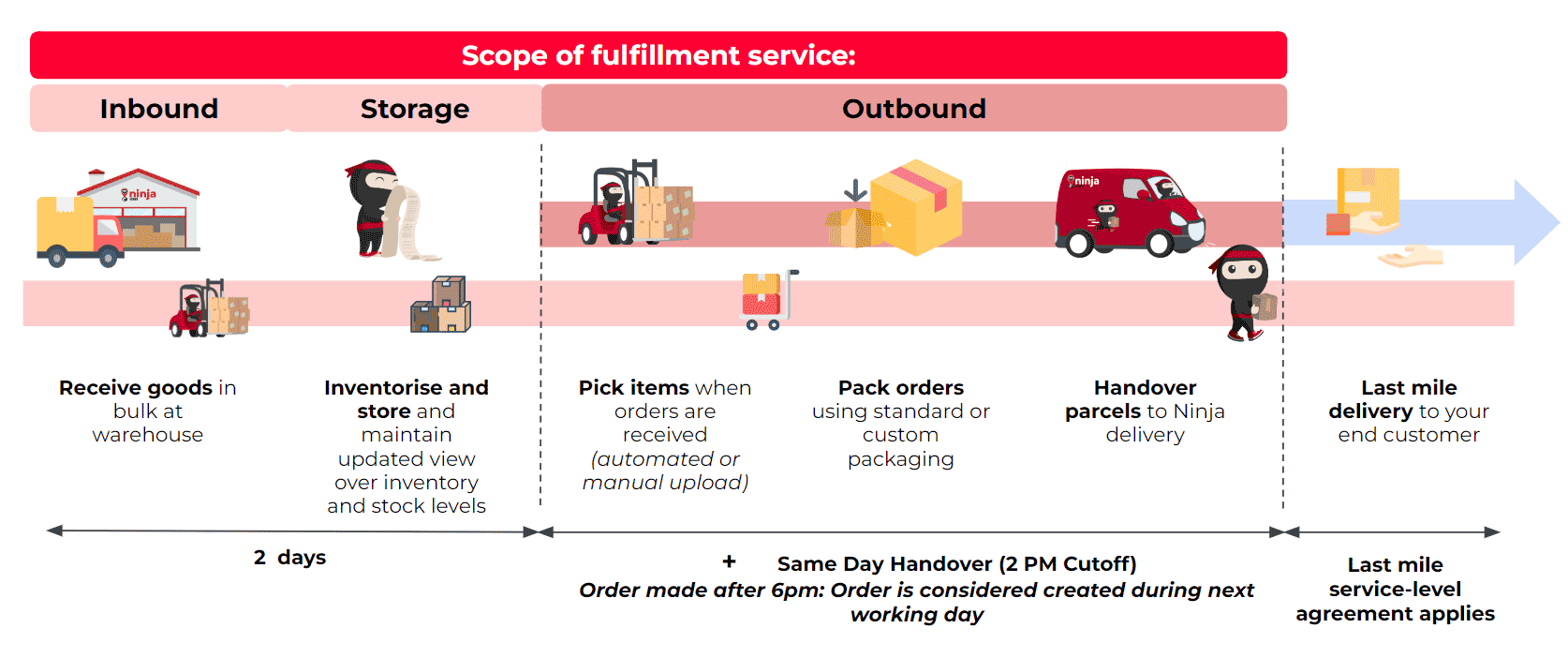 Speedy, fuss-free and reliable fulfillment
Customers are always demanding faster deliveries. The few hours between when they place their orders and when they receive them make all the difference. Our fulfillment centers across Southeast Asia help businesses to get their orders out in timings that exceed customer expectations. We provide full visibility and timely updates on warehouse activities and inventory movements through our warehouse management system.
Optimized delivery routes
By servicing multiple clients, each delivery route enables our delivery riders to carry the optimized load per trip, reducing delivery time, manpower, and other costs.
Centralized fulfillment network
A centralized fulfillment center dedicated to picking, packing, and shipping ensures consistent quality, time management, and cost-effectiveness.
Tech-enabled warehouse and fulfillment center in the Philippines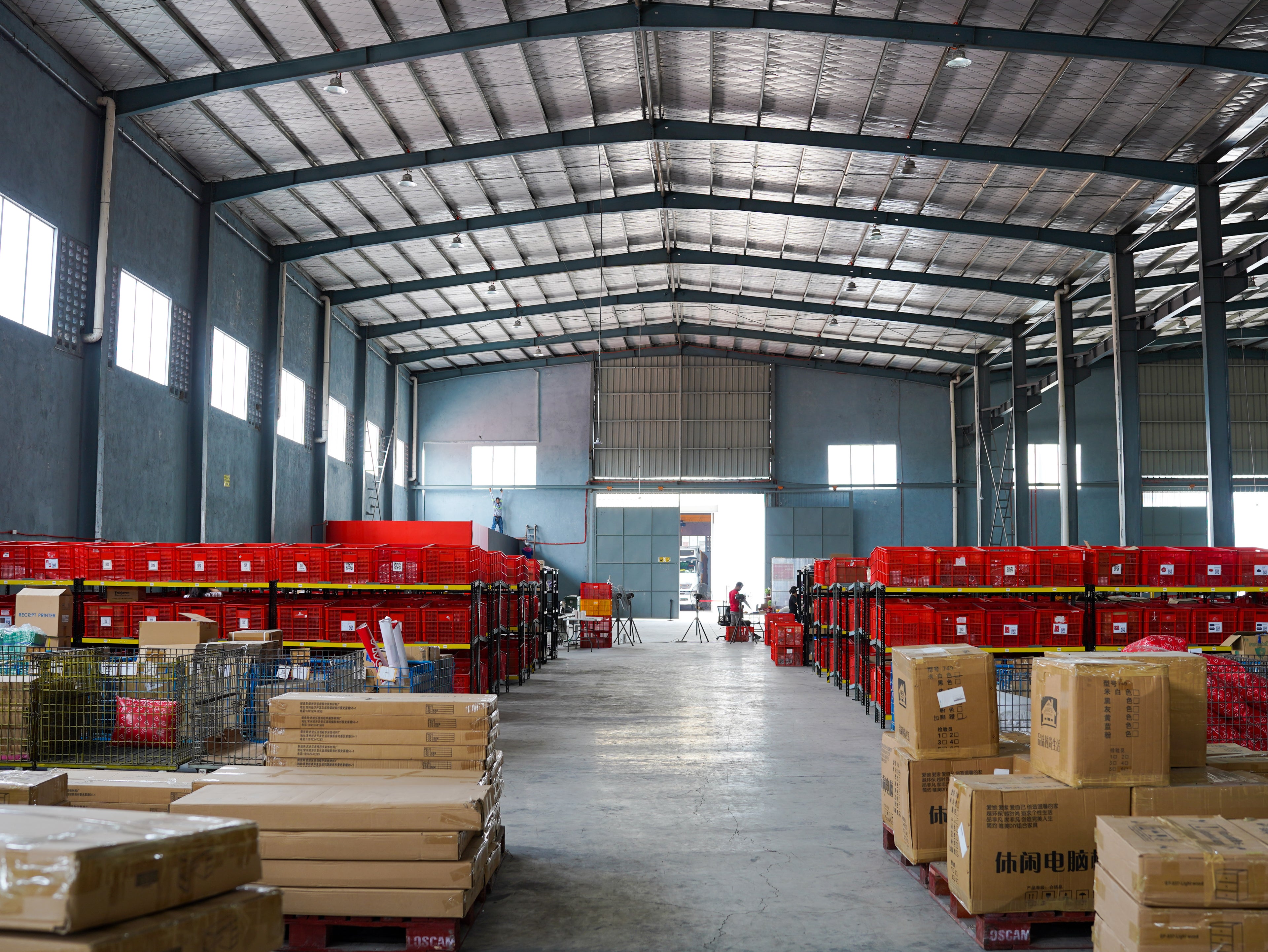 Our state-of-the-art logistics and warehousing distribution centers will keep your products safe and secure until we ship them to your customers. Ninja Van invests in equipment such as the DWS (Dimension Weighing and Scanning), automated rollers, conveyors, and multipurpose mobile scanners for an accurate movement of your inventory.
Dependable Fulfillment Services
In addition to regular picking, packing, and sorting, we provide customized warehouse management solutions to meet your e-commerce business needs. Value-added services like unstuffing, kitting and bundling, custom packaging, and more are included in our fulfillment services.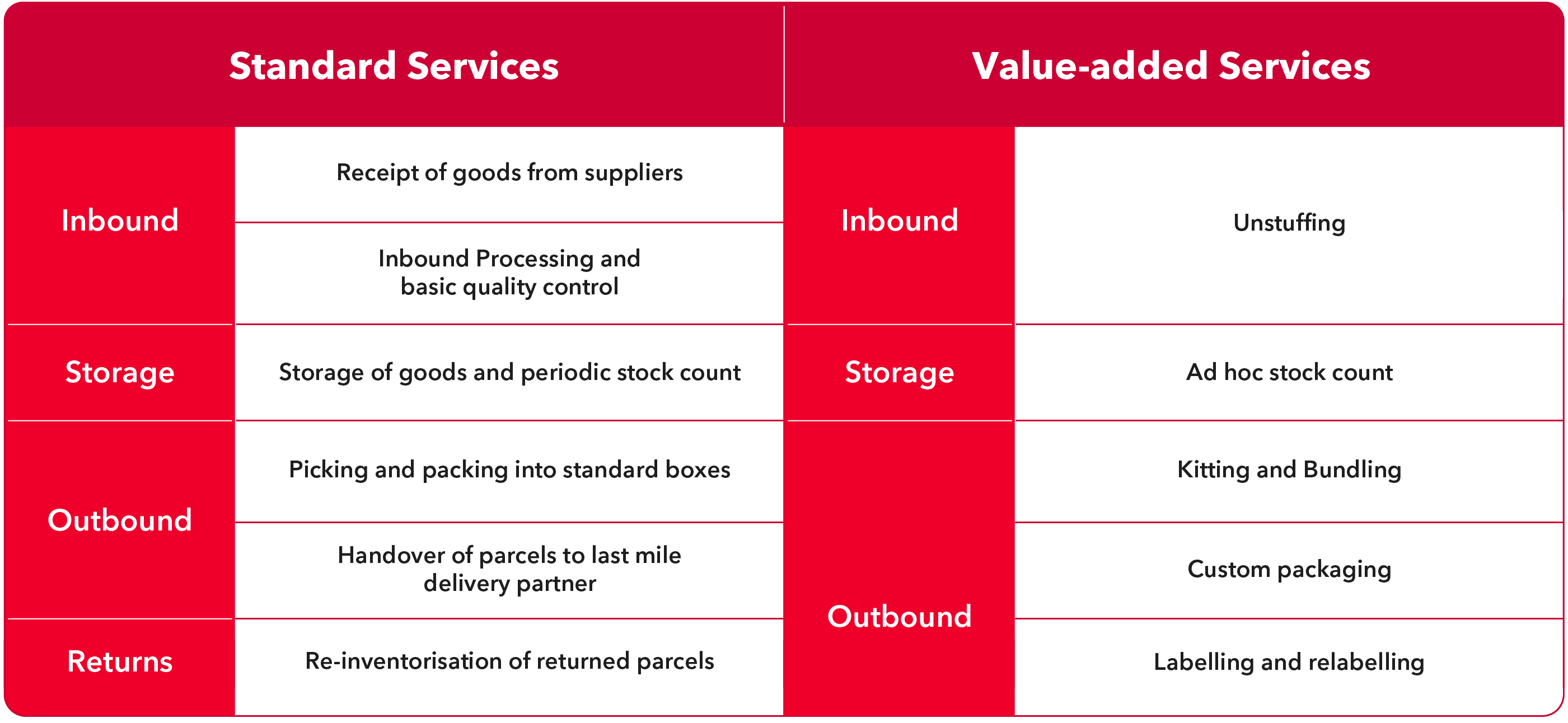 Flexible and customized inventory management solutions
Our system allows you to track your inventory from manufacturers/suppliers to our warehouses, and up to the point of sale and delivery.
Real-time Inventory Management
Record of inbound / outbound timing
Inventory and stock levels
Order Fulfillment status
Control over your Inventory
Upload orders to be fulfilled
Customize settings and instructions on inventory management and order fulfillment
Website and Marketplace Integration
Marketplace accounts (Shopee, Lazada, Shopify)
Ninjavan Dashboard
Marketplace Integrations
What our shippers are saying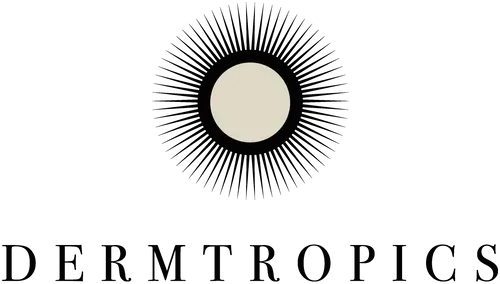 Seamless Delivery Tracking
"Ninja Van allows us to easily manage our orders and track the delivery status of each package in real-time, giving us peace of mind."
Michael Lucena, COO
Dermtropics
Frequently Asked Questions (FAQs)
How can I ensure that my entire shipment is received correctly?
We will request that you file an inbound request, If the received goods are different from the inbound request, the Fulfillment Team will reach out to you. At the same time, we have a Quality Assurance Team that check each SKU/Product that arrives into the Ninja Fulfillment Warehouse. Any damages will be reported to you for disposition. At the same time, you also have live view of inventory through the WMS.
How long does it take to process my shipment?
It will take 1-2 days for us to process your shipment for inbound before it is ready for orders.
What must I do before sending my products for storage?
For stocks to be accepted into the warehouse, it must first be a registered SKU in our system. If not, you may request to create SKUs to our fulfillment team. 
Secondly, an inbound request must be made. This may be done through the WMS.
What are the needed things for WMS Set-up?
For WMS Set-up, We need from you is a single E-mail address to grant you access to our WMS. Mutiple user can login with the single E-mail (with a Maximum or 4 users at a time).
What are the billing terms?
If you have a signed fulfillment onboarding contract, kindly check your onboarding contract on agreed billing terms. However, we have monthly and weekly billing.
Do you have a set-up fee for WMS?
No there is no additional fee for the use of the WMS.
What are the fulfillment fee and the services included?
The all in Fulfillment Fees are inclusive of storage, fulfillment, packaging, and handover to courier.
Is there a kitting and bundling fee?
Are my products required to have a barcode/QR code?
Yes, a barcode is required for all products stored in our warehouse. However, if there is no existing barcode, we can do this for you.
How do I know if my order has been dispatched or delivered?
You may see status of your orders on the Warehouse Management System (WMS), under the orders tab.
How long does it take to for my order to be dispatch once created?
We dispatch all orders received by 5pm same day. Can extend cut off time during double digits, payday sale.. After which, standard courier lead times apply.
What if my order was lost/damaged?
How long shall it take to create a tracking number?
Once you create an order, please allow us one (1) business day to prepare your order. Once we have done so, we will also assign a Ninja Van tracking number for the order.
Are you limited to using Ninja Van courier only?
No, we can accommodate pickups by your preferred couriers. However, with Ninja Van as courier, everything is already integrated and less hassle for you!
How can I ensure that my orders are prepared accordingly?
All items are barcoded once it is inbounded, and scanning the barcode is required for every step of the packing process. At the same time, all items have a unique storage location, so items will not be mixed up while in storage.
How will returns be handled?
Fulfillment Warehouse offers free returns. However, RTS fees of couriers may still be in effect.
Yes. We can accommodate COD Parcels. However, COD fees of couriers will apply.
Prices are Vat- Ex 
All in Prices are Vat-Inc
What happens when the orders are ODZ (out of delivery zone)?
When orders are ODZ for the courier selected, the order will get triggered for Return to Warehouse. Shipper is responsible in knowing what are the ODZ areas for their carriers. We will then ask you for your disposition on how to handle the order. We will be billing fulfillment fees for ODZ parcels. 
Other Services
International delivery
Delivering overseas? A team of experienced cross-border logistics team are readily available to provide smooth and seamless customs clearance, currency exchange, and other essential services.