Logistics Solutions for Social & E-commerce Sellers
Make your online selling on social media even more hassle-free!
You sell, we deliver
Selling on Facebook, Instagram, or Tiktok? We're here to make things easier for you no matter how big or small your online business is. 
Ninja Van's courier services for social media entrepreneurs provide hassle-free delivery for your parcels — from pickup to delivery. Focus on growing your business with the right courier partner.
Our services
We specialize in servicing the e-commerce market as we understand the unique challenges that online and social media sellers encounter. Ninja Van's solutions are targeted at resolving these pain points. Find a courier partner that understands your hustle. Ninja Van's logistics services for social sellers have the right solutions for you.
Prepaid Delivery (Ninja Packs)
Ninja Packs are an all-in prepaid delivery product that includes packaging, air waybill, delivery, and even liability coverage (up to Php 2,000)!
With no weight limit, these poly mailers and boxes are priced at a flat rate for delivery to anywhere in the Philippines, giving shippers a cost-effective and hassle-free solution.
Learn more
VIP Shipper Account (Ninja Dash)
For shippers with larger parcel volumes (300+ parcels per month), we offer a postpaid service with a dedicated account manager to assist you with all your shipping needs. 
Create bulk orders and integrate Ninja Dash with all your e-commerce platforms with our customized API and webhooks.
Learn more
The e-commerce logistics journey
From your store to the customer's doorstep, we are here to help every step of the way.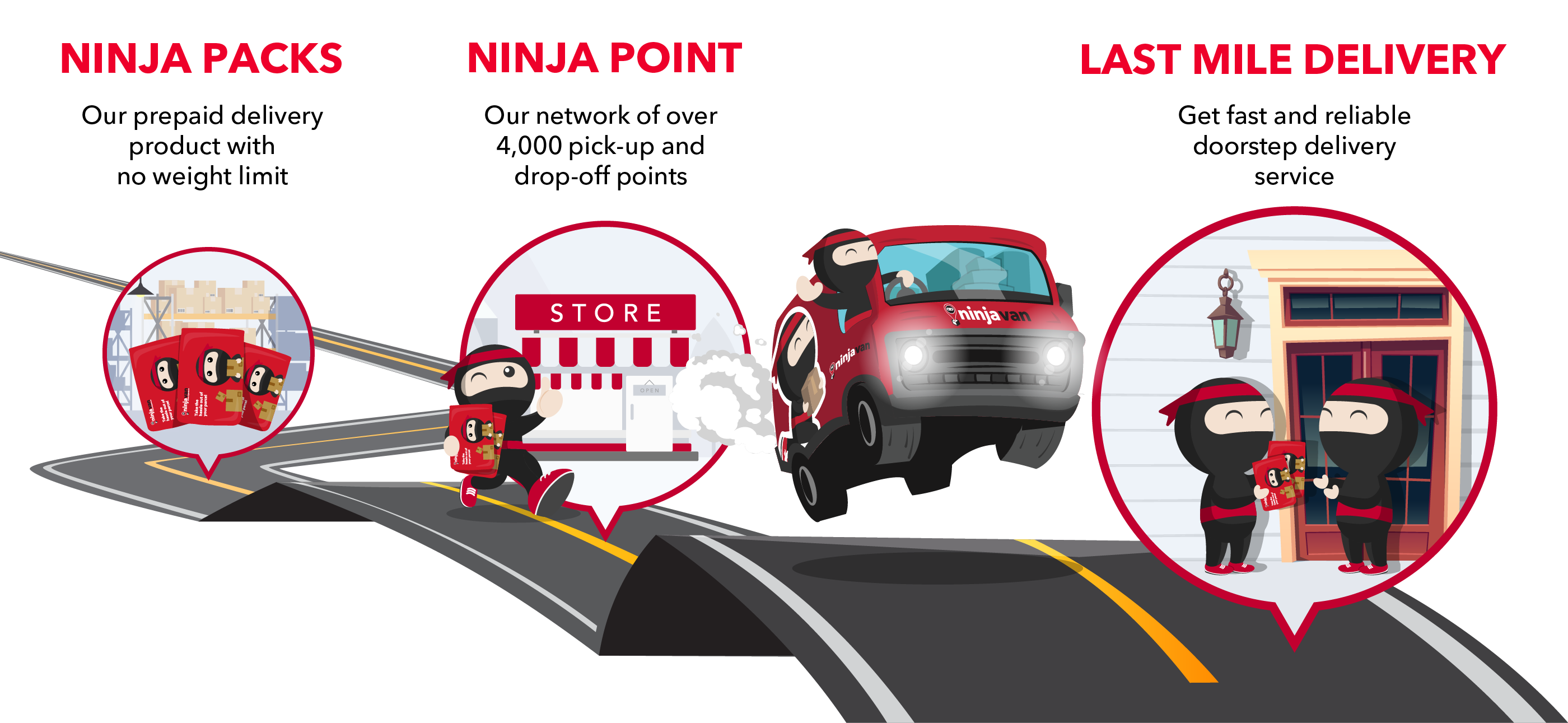 Are you a...?
SME
Thinking of growing your business even further? Find out how Ninja Van's logistics solutions for SMEs can help you with procurement, fulfillment, and other parts of your logistics journey.