Ninja Biz
Delivering parcels just got easier! Convenient shipping at your fingertips in Peninsular Malaysia.
Manage all your deliveries from your mobile
View your COD payments
Create and manage your orders
Track your parcels' statuses
Why Ninja Biz?
If you're a business owner looking for a logistics solution with the ultimate convenience, then our Ninja Biz app is the perfect solution for you!
Worry-free postpaid billing
Send parcels and pay your shipping fees later as we invoice your completed orders weekly.
Time-saving functions
Use our smart-paste function to paste and print your order and address details with a single click.
Cash on Delivery service (COD)
Monitor your COD performance and receive collected remittance weekly. 
Live customer support
Submit enquiries and speak to a live agent through our in-built Live Chat feature.
Skip the queue
Drop your parcels off at any of our extensive network of Ninja Points without waiting in line.
Seamless real-time tracking
Receive the latest updates and real-time statuses of your parcel throughout its journey.
Getting Started
With the Ninja Biz app, you can start shipping instantly, no cash or credit card required! Simply arrange for your parcel deliveries and pay after.
01
Download the app
Download from the GooglePlay or App Store.
02
Start shipping
Create orders and drop them off at any Ninja Point, no initial payments required!
03
Pay later
A weekly SMS will prompt you to make payment for completed orders every Monday.
Our Shipping Rates
Shipping to Peninsular Malaysia starts from RM5.50 for the first kilogram, RM0.80 for subsequent kilograms. Additional RM1 charge to enjoy our pick up services. 
*All prices listed are exclusive of taxes.
**Max. weight of 30kg, or up to 180cm; sum of dimensions = (L + W + H), with each side not exceeding 100 cm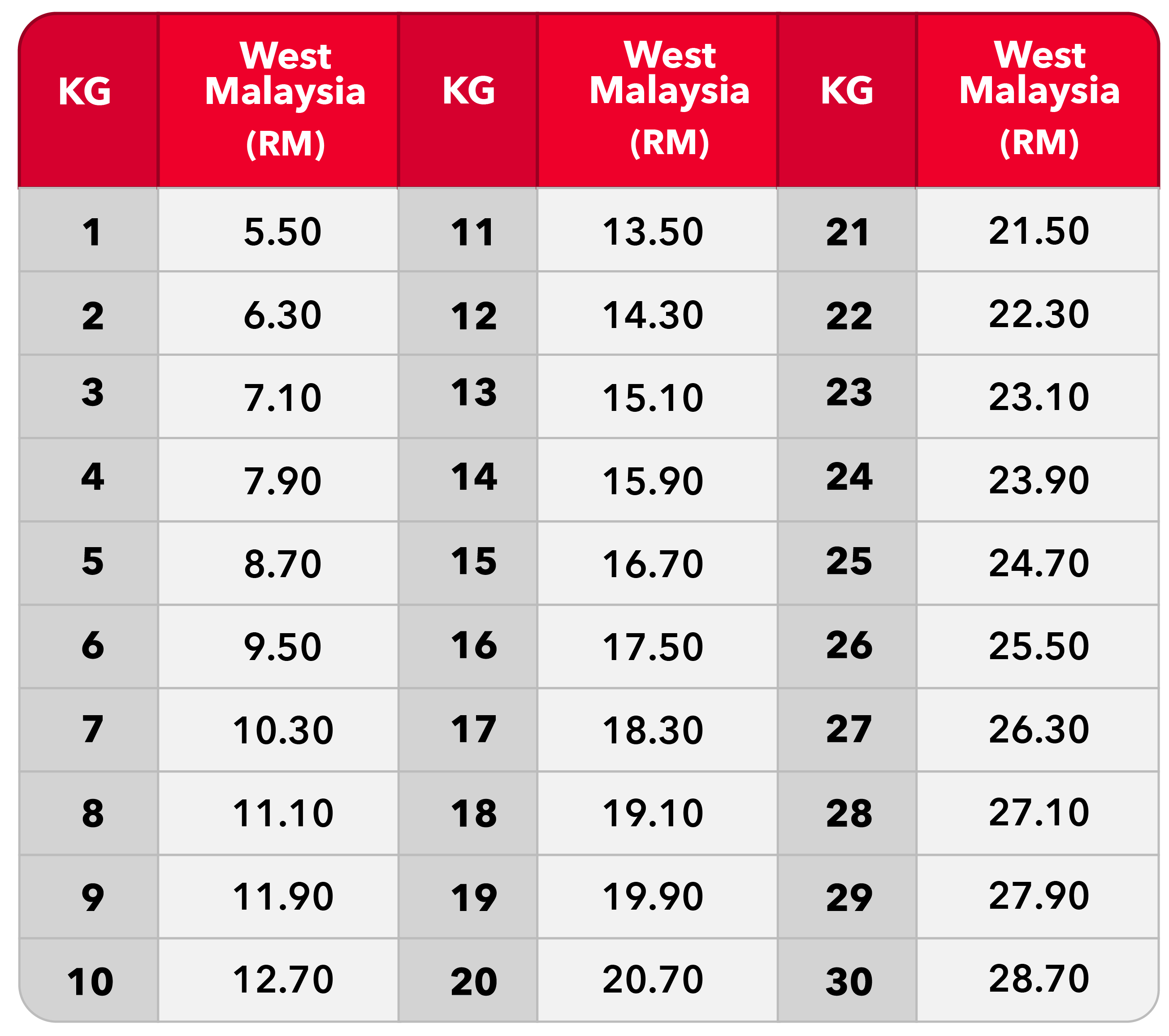 Frequently Asked Questions (FAQs)
Visit the Ninja Helpdesk page for a full list of FAQs on Ninja Biz. For other enquiries, requests or feedback, please visit the Contact Us page.
How do I start shipping with Ninja Biz?
Here's how you can start:
1. Create an account on the Dash mobile app (How do I create an account?)
2. Create your first order with us via the app (How do I create an order?)
3. Wait for your parcels to be picked up/drop off your parcels at one of our drop-off points!
The shipping fee for the delivery of the parcel will be via the Pay After Delivery (PAD) payment method. With this method, an SMS with a payment link will be sent out on every Monday between 11:00 AM to 8:00 PM.
How do I create an account?
To create your account,
Download the app from GooglePlay/App Store
Enter your email/phone number and choose your country
Verify your email/phone number by OTP
Set your password
Enter business details
Enter bank account details (COD only)
Enter ID number and front-copy of your ID card
And you're all set!
Why am I prompted to use another email address to create an account?
Your email address is already registered with a Ninja Lite/Pro account. Please use another email address for mobile app account creation.